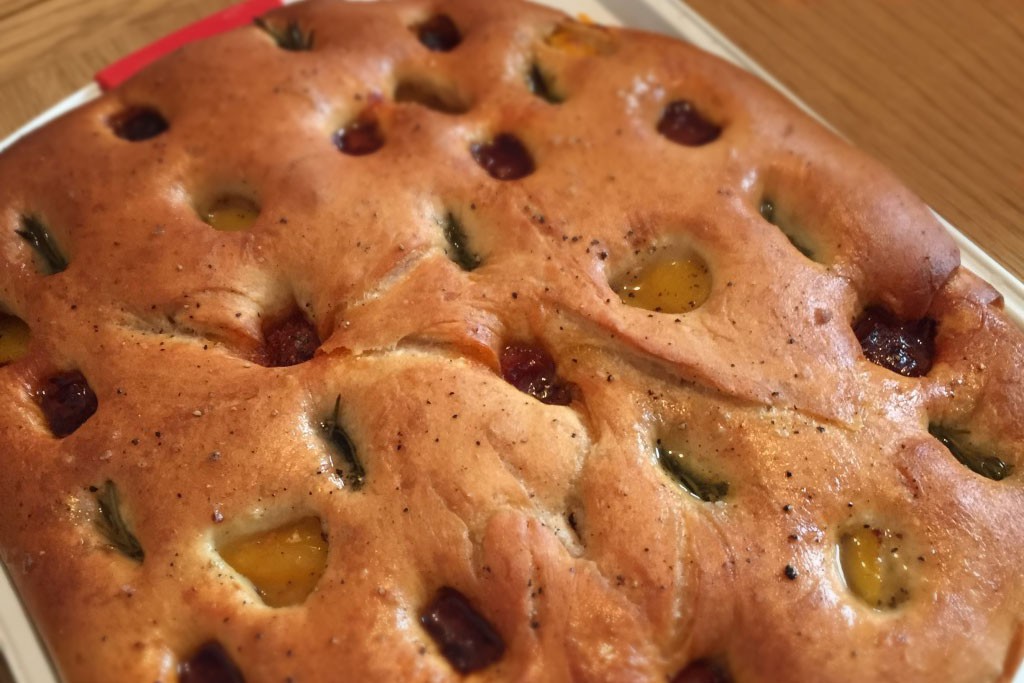 The perfect accompaniment to any hearty pasta dish, this focaccia can be loaded with all your family's favourite toppings, making it a guaranteed table pleaser.
You'll need a little bit TLC and muscle power for this recipe so make sure you have the time to wait in between a couple of the steps to allow the yeast to activate and for the bread to prove. It's all in the preparation as they say and trust me it's well-worth the effort when you taste the final result.
---
Prep Time 1 hours 20 minutes
Cook Time 25 minutes
Yield 4-6
---
Ingredients
600g white bread flour
20g live yeast or 14g dried 10g salt
10g sugar
360ml tepid water (50 degrees, half boiling and half cold)
1 tbsp olive oil to dress the tray and coat the bread
For the topping (Keep the ingredients chunky!)
50g chorizo sausage
1/3 yellow pepper
2 twigs rosemary
Sea salt and black pepper
Good quality olive oil, (as much as you'll allow yourself! See steps 7 and 9 for the best results.)
---
Instructions
In a measuring jug dissolve the yeast in the warm water and add the sugar. Leave to stand for 5-10 until the mixture is creamy and it is making a popping noise when stirred.
In a large bowl add the flour and salt then stir well. Slowly combine about 90% of the water and yeast mixture with the flour and salt using a spoon. When the ingredients start to form a ball set the spoon aside and use your hand. Finally add the last 10% of the water and yeast to get the last bit of flour off the bowl.
Now that your dough has pulled together, turn it out onto a lightly floured surface and knead for 10 minutes until smooth and supple.
Lightly oil a baking tray with a small amount of the olive oil, leaving the remainder for later.
Roll out the dough into a rectangle to fit your baking tray at around 1cm thick. Coat with olive oil. Cover with a damp cloth and leave to rise for 20-30 minutes in a warm place until it has doubled in height.
Preheat the oven to 190C / gas mark 5.
Introduce your topping by pushing your thumb into the mixture to make wells for your ingredients. Make sure the ingredients are pushed right into the dough with gaps in between around 2 inches apart. Season the top with sea salt and black pepper and for the best results drizzle plenty of olive oil over so that it catches in little pools in the toppings well.
Bake in a preheated oven for 25 minutes or until light brown.
When the focaccia comes out of the oven grizzle again, lightly this time, with olive oil. Place on a wire rack to cool for 5 minutes before serving.