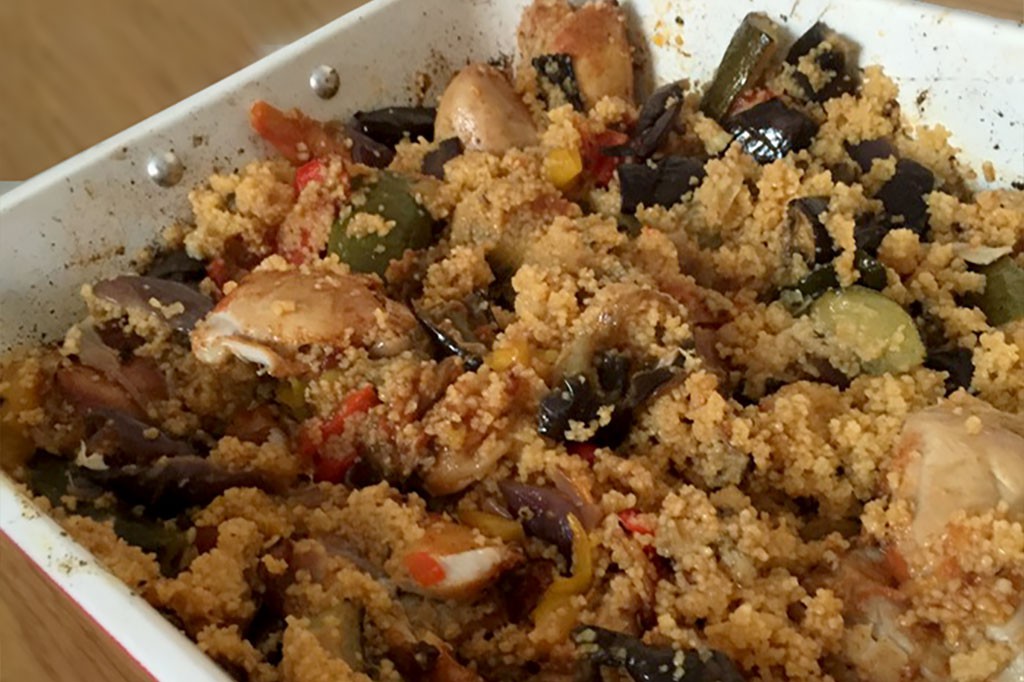 A delicious fusion of classic mediterranean flavours with just 400 calories per serving makes this dish the perfect balanced meal that the whole family is guaranteed to love.
This one pot wonder is a firm favourite in my household, not only is it delicious and oh so simple to prepare, it also takes care of itself in the oven and there's very little washing up too – what more could you ask for! All you need is a trusty roasting tray in which to add all of these beautiful fresh ingredients, and away you go. You'll have a new staple to add to your repertoire and an extra hour in your day where you would usually be labouring over the stove.
---
Prep Time 15 minutes
Cook Time 1 hour
Yield 4
Calories 400
---
Ingredients
100g chorizo sausage
8 boneless and skinless chicken thighs
250g couscous
2 medium red onions, cut into quarter wedges
1 aubergine, cut into large chunks
1 courgette, cut into large chunks
1 red pepper de-seeded and cut into large chunks
1 yellow pepper de-seeded and cut into large chunks
2 medium tomatoes, cut into quarter wedges
6 garlic cloves
½ tsp sweet smoked paprika
½ tsp dried oregano
Sea salt and ground black pepper
---
Instructions
Preheat the oven to 200°C/400°F/Gas Mark 6. In a large roasting pan add the onions, aubergine, courgette, peppers and tomatoes and season with the sea salt and ground black pepper. Lightly toss the vegetables together and roast in the oven for 20 minutes.
Whilst your vegetables are roasting cut the chorizo sausage into 5mm thick slices.
After 20 minutes take the roasting tin out of the oven and sprinkle over the paprika and oregano. Scatter the chorizo around the tray and mix into the vegetables. Make gaps in the vegetables and chorizo and add the chicken thighs so that they are virtually covered by the other ingredients. Cook for a further 40 minutes basting the chicken after 20 minutes.
In the meantime, add the couscous into a large bowl and pour over 2 cups of hot water. Cover with a clean tea towel and leave for 10-15 minutes. Fluff up with a fork.
Once the tray bake is ready, remove from the oven and mix in the couscous.